At Havenpark Communities, we believe in the dreams and aspirations of our residents. Each year, we take immense pride in awarding post-secondary academic scholarships to exceptional individuals within our diverse communities. We are committed to supporting the educational journey of our residents as they strive for excellence in higher education and pursue their career-related goals.
The Havenpark Communities Academic Scholarship Program is more than just financial assistance; it's a testament to our belief in the transformative power of education. We understand that the pursuit of knowledge is a vital step toward building a brighter future, and we are honored to play a part in empowering our residents to reach new heights.
Join us in celebrating the pursuit of academic excellence and the realization of dreams. Explore the opportunities that await you through the Havenpark Communities Academic Scholarship Program, where we invest in the potential of our community members and contribute to the creation of a better tomorrow.
Meet our recent Havenpark Scholarship recipients!
Are you interested in pursuing additional education or training?
College or University
Trade School
Vocational or Technical Training
Each year, Havenpark Communities offers multiple competitive educational scholarships to eligible residents of our communities.  
The scholarship application period is now open!
Be either a current resident of a Havenpark Community or have a parent/legal guardian that is a current resident.
A high-school senior, current undergraduate or someone planning on enrolling in part-time or full-time study at an accredited post-secondary institution beginning in 2024.
Have a minimum cumulative grade point average of 2.0 or higher.
Note: Applicants must meet all of the criteria above for consideration.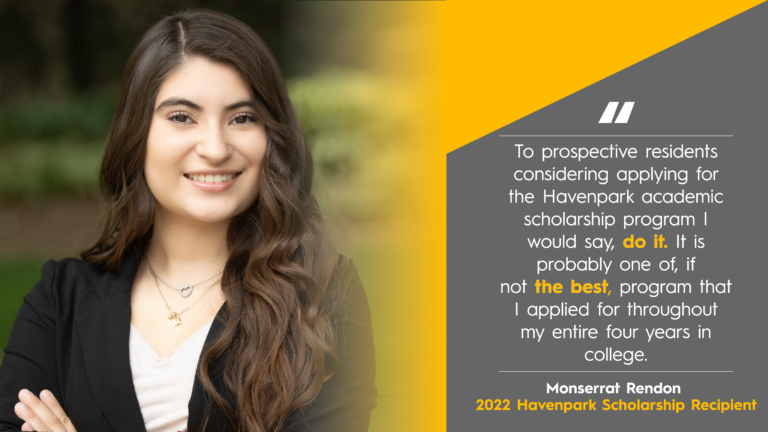 Havenpark Scholarship Frequently Asked Questions
The Havenpark Scholarship is a financial award granted to a resident, or the child of a resident, who is planning to pursue or is currently pursuing, further undergraduate education at an accredited two- or four-year college or university, or vocational-technical school in the United States for the 2024-2025 academic year.
How do I apply?  Submit the Havenpark academic scholarship application, and all required supplemental materials, between December 1, 2023 and February 29, 2024.  The link to the scholarship application can be found here!
What will be considered? 
– Prior academic performance
– ACT or SAT test scores (if submitted)
– Leadership and participation in school and/or community activities
– Awards and honors
– Work experience
– Responses to application essays
– Online recommendation (if submitted)
– Demonstrated financial need
When will scholarship recipients be notified?  All applicants will be notified of scholarship decisions in April of 2024.
How much is the Havenpark Scholarship award? 
Scholarship award amounts vary.  Awards are renewable up to three (3) additional years or until a bachelor's degree is earned, whichever occurs first, on the basis of satisfactory academic performance and part-time or full-time enrollment.
Award amounts will be adjusted if a recipient changes college type or enrollment status. Awards may transfer from a 2-year institution to a 4-year institution and vice versa.
Each spring awardees must complete an assessment of demonstrated financial need, in conjunction with the Free Application for Federal Financial Aid (FAFSA).  Award amounts may be adjusted each year depending on demonstrated financial need.
Awards are for undergraduate study only.
Are Havenpark employees eligible for academic scholarship consideration?  No.  Havenpark employees and their family members are not eligible for scholarship consideration.
If I meet the eligibility criteria, will I automatically be awarded a scholarship?  No.  The Havenpark Communities Scholarship is a competitive scholarship.  All applications will be reviewed thoroughly and only a select number will receive a postsecondary academic scholarship. 
How is the scholarship award distributed?  Scholarship awards are disbursed directly to the institutional Financial Aid office in August of 2024 upon verification of enrollment.
How can the scholarship be used?  The scholarship can be used towards institutional tuition and fees and additional educational expenses, such as on-campus housing and meal plans.
If selected, can I use the Havenpark Scholarship at any school?  The scholarship can only be utilized at an accredited two- or four-year college, university, or vocational-technical school.  A database of accredited institutions in the United States can be found here.
When working on the Havenpark Scholarship application, do I need to complete the application in one sitting? You will be able to save your progress as you work through the scholarship application.  It does not need to be completed in one sitting.
Will I need to upload any documents?  Applicants will be required to upload a copy of their cumulative high school or college transcript.
Do I have to submit an online recommendation?  While an online recommendation is not required to be able to submit your application, we highly encourage it as an online recommendation will be a component utilized in the application review process.
Who should I ask to be my online recommendation writer?  If you're a current high school senior, know that teachers or school counselors make ideal online recommendation writers.  If you are unable to identify a teacher or counselor or have been out of school for some time, a leader in your church, a supervisor in your place of employment, or even your community manager can complete the online recommendation.
Need help with the application? Check out our walkthrough video!